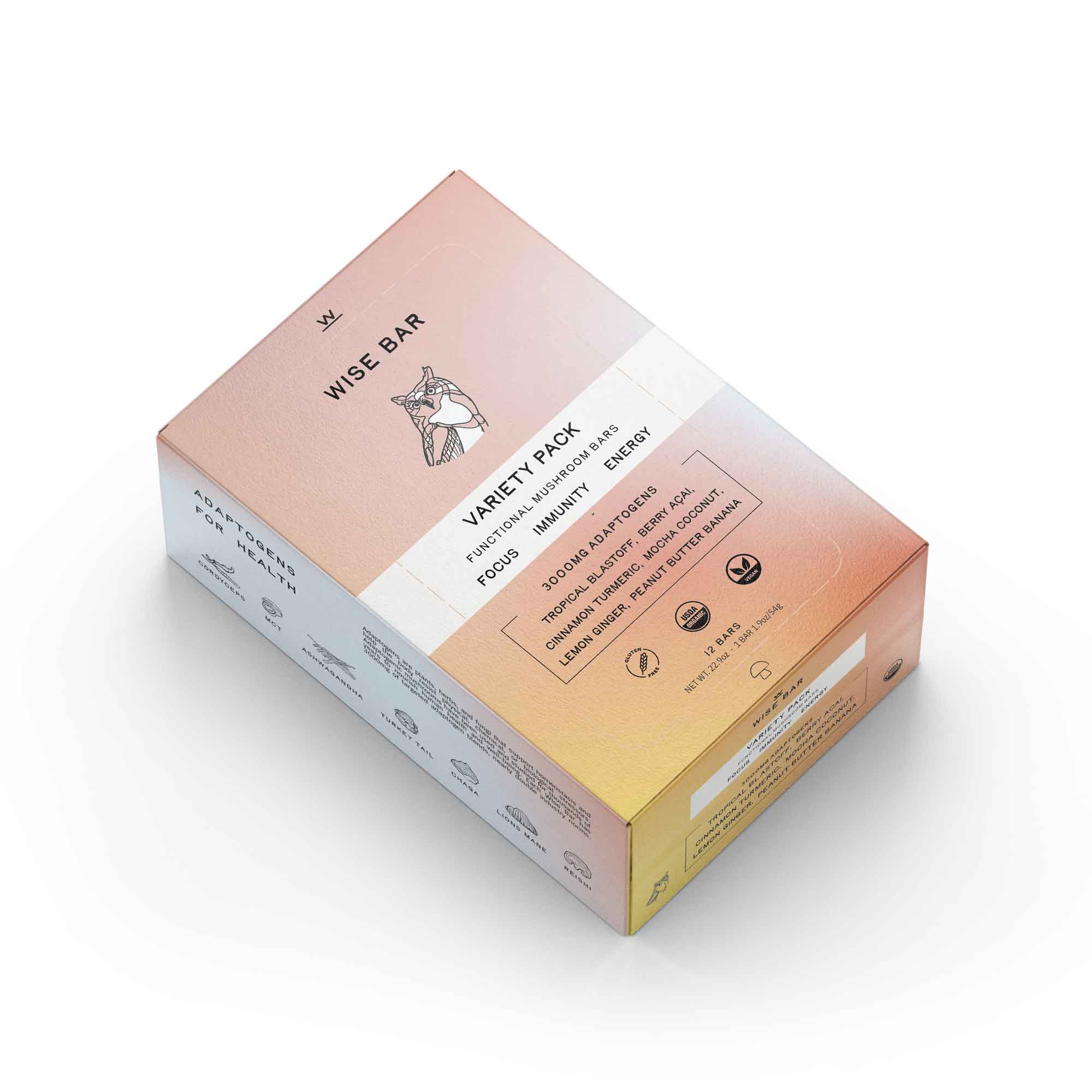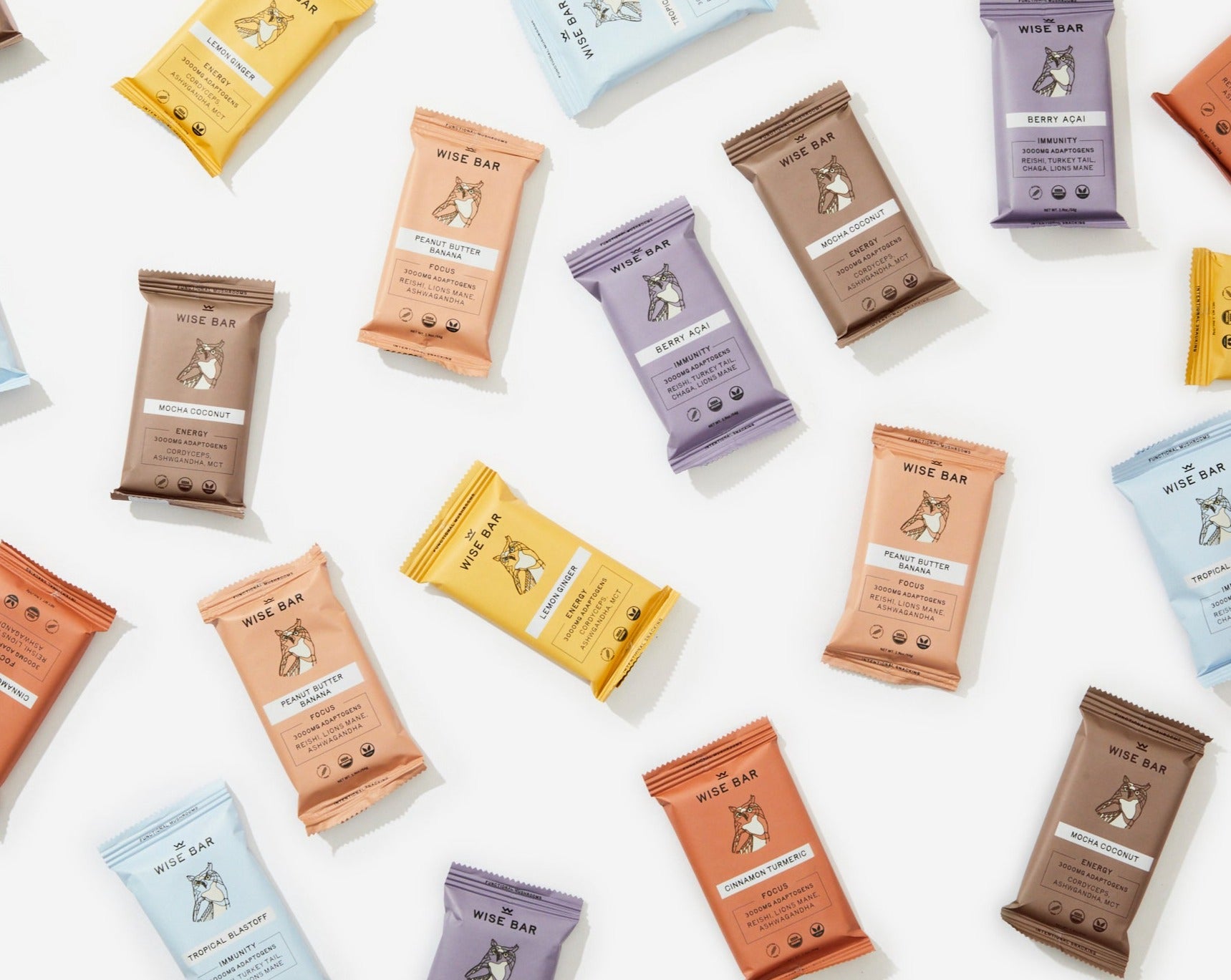 Each box contains 12 bars, two of each flavor.
Free shipping on all orders over $49.
Subscribe for 10% off and free shipping.
Try the full product range and experience our commitment to creating healthy snacks that are as delicious as they are functional. 

Contains the following bars (two of each flavor):
Energy: Lemon Ginger and Mocha Coconut
Immunity: Tropical Blastoff and Berry Açai
Focus: Peanut Banana and Cinnamon Turmeric
INGREDIENTS (All Organic): 
Berry Açai: Dates, Almonds, Oats, Blueberries, Strawberries, Almond Butter, Coconut, Lemon Juice Powder, Cacao, Cashew Butter, Açai Powder, Lion's Mane, Turkey Tail, Reishi, Chaga

Cinnamon Turmeric: Dates, Oats, Almond Butter, Orange Juice Powder, Cashew Butter, Almonds, Cinnamon, Lion's Mane, Cashews, Reishi, Ginger, Turmeric, Ashwagandha

Lemon Ginger: Dates, Cashew Butter, Crystallized Ginger (Ginger, Cane Sugar), Oats, Almond Butter, Cashews, Lemon Juice Powder, Cordyceps, Coconut MCT, Almonds, Ginger, Ashwagandha, Lion's Mane

Mocha Coconut: Dates, Almond Butter, Oats, Coconut, Cacao, Almonds, Cordyceps, Coffee, Coconut MCT, Ashwagandha, Lion's Mane

Peanut Butter Banana: Dates, Peanut Butter, Almond Butter, Cacao, Peanuts, Bananas, Oats, Lion's Mane, Reishi, Almonds, Himalayan Pink Sea Salt (non organic), Ashwagandha

Tropical Blastoff: Dates, Pineapple, Mango, Coconut, Oats, Cashew Butter, Almond Butter, Lion's Mane, Reishi, Turkey Tail, Chaga, Cashews, Almonds
Trees for the Future
19,341 trees planted
Through our partnership with Trees for the Future, we plant trees and feed people in need with every bar sold. Our goal is to plant one million trees and empower ten million individuals by 2025.

Good way to find what you like!
A great way to discover which ones are your favorite by trying the variety box! Berry Açaí and Lemon Ginger get top votes.
Best bar out there!
Always look forward to my variety box! Every bar is unique and equally tasty, nothing like other bland nutrition bars. Plus I know Im getting a boost of functional mushrooms. WISE is where its at!!
Bitchin' Bars
These bars are fire. Every flavor kills it
SO GOOD
The texture is amazing and they are super filling! We have had a subscription for 4 months now and we absolutely love having these at our hands whenever we need a pick-me up or a quick snack to get through the day. I have been a cliff-bar person for 10+ years but have officially switched to wisebar as my go-to adventure bar. Cant recommend enough.